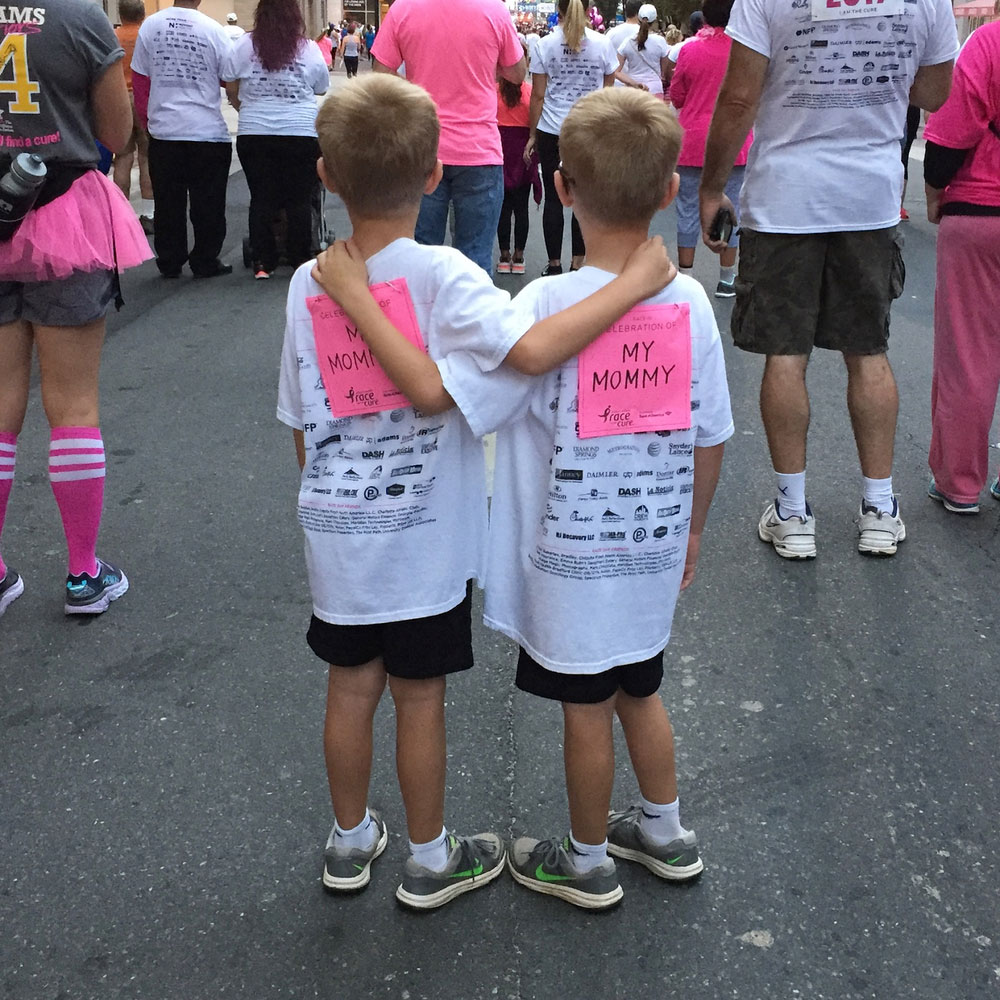 "I never knew what bravery was until I saw it in my mother."
In February of 2017, I was diagnosed with Stage 2 breast cancer. Although I knew that cancer was a possibility as I went through the diagnostic process, I don't think that I ever truly accepted it as a plausible outcome. When I was called with the biopsy results, my mind simply could not compute the magnitude and, quite frankly, the absurdity of what I was being told. This was not supposed to happen to me. I was 36 years old, in excellent health and had no history of breast cancer in my family. I also know now that I do not have the gene. And yet, there I was. My world was turned upside down.
My mind went to my sons, Austin and Blake. "Mom guilt" is real, powerful and often irrational. We punish ourselves for things that we cannot control and the questions swirled for me. How could I bring this into their lives? Would this time be a dark cloud over their childhood? Would I be leaving them without a mother? These questions weighed on my heart more heavily than cancer ever could.
Austin and Blake are identical twins and were born just shy of 28 weeks. Their premature births lead to a 56 day stay in the NICU. I remember long days and nights in the hospital apologizing to them. It was my body that had failed them then and it was my body that was failing them now.
Next I was tasked with telling Austin and Blake that I had cancer in a way that they could understand, but not be afraid. I am not a trained counselor or psychologist in any way shape or form. So, I read articles, books and sought advice from professionals and other cancer survivors. This is what has worked and is currently working for my family:
Prepare their circle.
I sat down with all of the people who spent a significant amount of time with Austin and Blake when I was diagnosed: my ex-husband, their teachers, etc. I wanted them to know about my diagnosis BEFORE I told Austin and Blake. While I did not expect all of these people to also have conversations with Austin and Blake, I wanted them to know exactly what was happening in case questions did come up or they noticed them being upset or withdrawn. I also did not want them to learn about my diagnosis from Austin and Blake.
Explain everything at their level.
This also requires understanding what that level is. Every child is different – even identical twin boys. Austin and Blake were six when I was diagnosed and in Transitional Kindergarten. Their understanding of cancer was extremely limited. Additionally, sickness is a zero sum game for most young children. You either are or you aren't. Austin and Blake understood that I was sick, but not the gravity of the situation. To help them understand I created a visual aid where I wrote down important words related to cancer and my treatment plan on a small chalk board and hung it up for them.
Continue the conversation.
As an adult, it is difficult to understand the many variables involved in a cancer diagnosis and treatment plan. You have to stop, take a break (breathe) and absorb what you have been told. The same applies for children. You have to stop, take a break and let them absorb what they have been told.
Let them be a part of your journey.
Austin and Blake were too young to be in the infusion room during my chemotherapy and Herceptin treatments. However, they did attend a few appointments. They also saw me receive my Neulasta shot more than once. This allowed them to have a deeper understanding of my treatment plan. The hospital and what was happening to me did not need to be scary.
Be prepared for random questions.
As any parent knows, your child can ask you whatever, whenever. Blake was the first to ask about me dying. We were in their bathroom, just before bedtime. He had just finished brushing his teeth. "Mommy, will the medicine make you die?" Of course I told him no, desperately praying that this would not be a lie.

While I always wanted to be honest about my situation, I will admit to softening the truth more than once. I tried to be both truthful and hopeful at the same time. There were also times (like the above) that I provided a definitive response when I honestly wasn't sure of the answer. I simply could not see into the future. However, I felt that Austin and Blake did not need to know all of the possible scenarios at their age. I kept it simple.

Be prepared for unanticipated reactions.
Before my double mastectomy, I tried to prepare Austin and Blake. I specifically explained that they would not be able to hug me and that I would not be able to pick them up for several weeks. They seemed to understand. The first time I saw Austin and Blake after my surgery, Austin was very removed. He did not want to touch me and I could tell that he was upset. He had already seen me go through chemotherapy, lose my hair, etc. However, it was the inability to hug me that affected him most.
Anxiety is real and formidable.
I did everything my doctors told me to do – six rounds of chemotherapy and a year (18 rounds) of Herceptin. I chose the most aggressive surgery, a double mastectomy, and was declared "cancer free" on August 16, 2017. And yet, the anxiety remains… Will it come back? Some days I feel that if I had to fight again, I would jump right back into that ring with my boxing gloves laced up, ready to go. Other days the thought makes me want to curl up into a ball and crawl back into bed. Thankfully, the boxing scenario wins out most days and there are even wonderful, blissful days that I forget that I had cancer at all. Those are the best.

Austin and Blake have anxiety too. I recently left a medical bill on the kitchen counter and they asked about it. I don't think that they have ever asked about a bill before. Blake came up behind me and gave me a hug. He told me that he was worried about me. Austin asked if I had enough money to pay the bill. And that is my children, in a nut shell. Blake immediately goes for the hug and Austin is worried about the practical.

Don't forget to smile!
I do not mean to sound cliché. Believe me, I have heard them all… "Everything happens for a reason, etc." Cancer takes a lot from you, but don't let it take away your smile. It is incredibly important to be in the moment with your children as much a possible. Laughter is critical. This was healing for me and for them.
While I would never wish cancer on anyone, it has left me with some amazing gifts and a better perspective on life. I am a better person and specifically a better mother. While going through cancer treatment with young children is certainly less than ideal, they made me more focused on the finish line and less focused on the struggle to get there.
While I concentrated on my own exchanges with my children in this post, I want to be clear that a veritable army of family and friends took care of all three of us during this very challenging time. This army allowed be to be able to concentrate on Austin and Blake and the task of getting healthy. I will spend the rest of my life paying that kindness forward.
#Me3project Discussion Starters:
How do you talk to your children about illness?
Do you believe it's better to be direct with your children or shield them from "adult" trials?
What other tips do you have?
---
Dr. Helen King
Dr. Helen King teaches political science at UNCC. Helen holds a BA in Political Science from Wake Forest University, a Master of Public Administration from UNCC, a MA in Political Science from the University of South Carolina, and a PhD from University of South Carolina. She lives in Charlotte with her sons, Austin and Blake, and Boston Terriers, Major and Colt. She loves all things Texan, Diet Dr. Pepper and Guacamole.